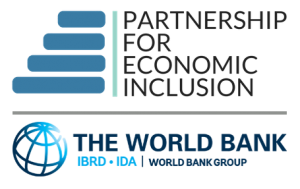 PEI supports cost-effective and scalable economic inclusion investments for extremely poor and vulnerable populations.
Economic inclusion programs are multi-sectoral interventions that support extreme poor and vulnerable households to achieve sustainable livelihoods and increase their incomes, resilience, and assets, while building human capital and promoting social inclusion.
The partnership builds on the considerable success of graduation programs worldwide. Graduation programs have been implemented in more than 50 countries by a range of governments and institutions, providing a time-bound package of interventions spanning social assistance, financial inclusion, livelihoods, coaching, and empowerment. Such programs have demonstrated promising impacts in income and asset generation, poverty reduction, and food security.
PEI is supporting a new generation of economic inclusion approaches to operationalize the scale-up of government-led programs, with a work plan focused on the following three priorities:

Country Engagement:
harnessing global expertise to provide technical advice and grant support for selected governments to design, implement, scale-up, and continuously improve their economic inclusion programs.

Innovation and Learning:
innovation and research activities focused on the most critical gaps in knowledge and practice. Findings and knowledge products will help improve the performance of government programs and inform global operations and advisory services.

Global Knowledge Sharing:
to strengthen knowledge exchange by establishing a digital platform and identifying and distilling good practices, guidelines, tools, and training for diverse audiences and contexts.
To meet global demands, PEI leverages its partnership network, which includes practitioners, policy-makers, development partners, and research organizations. The partnership network is critical in terms of contributing to evidence-based good practice, crowding in expertise, and providing a platform to refine and share cutting-edge knowledge on economic inclusion.
PEI is a trust fund within the World Bank's Social Protection and Jobs practice, having been based for 12 years at CGAP. Increasingly, governments that are World Bank clients seek to strengthen economic inclusion programming by expanding job opportunities, social protection, and financial inclusion, among other priorities. PEI has established links to a variety of government programs, including Afghanistan, Ethiopia, India, Malawi, Pakistan, and Paraguay.
A complete website is in development. Additional information and links to resources are available at the FinDev Gateway website.