Authors: Sonia Madhvani and Danielle Robinson
Original post: https://blogs.worldbank.org/jobs/
Naomi[1] lived with her family in Nairobi. In lieu of rent, she provided childcare services for her nieces and nephews. With no income, career or plan for her future, Naomi felt stuck at a young age.
Through friends, she came across a Samasource digital skills training program that could help her enter the job market. She applied and was accepted to join, but her family did not support her decision. They felt that because she would no longer be able to provide childcare during the day she was dropping her family duties. They said if she joined the program, she'd have to leave her home.
Naomi's story illustrates how social norms can restrict women's labor market participation. Globally, youth experience the highest rate of unemployment of any age group. Unemployment rates are even greater for young women than young men. The ILO estimates that labor force participation for young men aged 15-24 in 2017 was 53.7 percent, while the rate for young women was only 37.1 percent.
In many countries, women are disproportionately burdened with household responsibilities, including caring for children or elderly family members. Fortunately, Naomi was able to continue her training with the support of Samasource staff and a friend who was willing to give her temporary housing.
Naomi is one of the trainees we interviewed while conducting online consultations for the Solutions For Youth Employment (S4YE) 2018 Annual Report "Digital Jobs for Youth: Focus on Young Women in the Economy." The consultations sought to provide insight into the experiences of three key groups: young digital skill trainees and entrepreneurs; digital skills training implementers; and firms that hire young workers for digital jobs. We hoped the interviews would provide valuable lessons for youth employment practitioners and policymakers.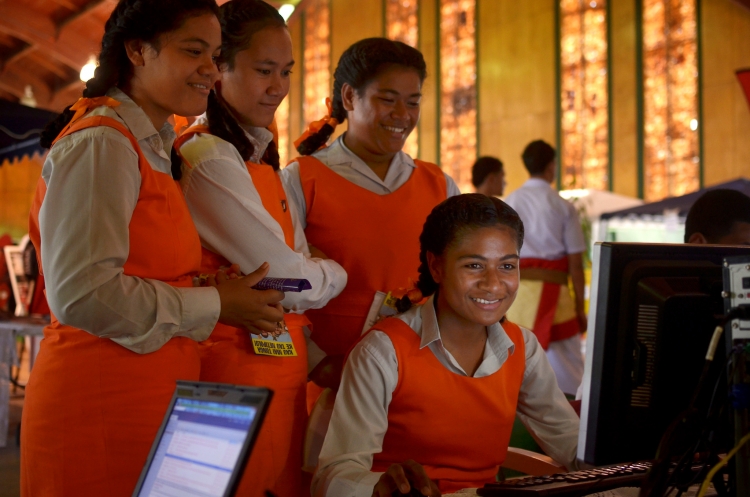 Insights from the consultations emerged across five main topic areas including program design, program recruitment, program curriculum, beneficiary retention, and job search. We also identified several cross-cutting themes that affected program success in each of these areas. These themes included contextual factors that shape women's access and opportunities, business expectations and, importantly, social norms.
A lot of the program staff we interviewed addressed child and eldercare responsibility barriers by incorporating childcare-friendly training hours, providing trainees with the flexibility to complete courses over longer time periods, and linking trainees with local community-based organizations (CBOs) that provide care. Successful training programs often partnered with CBOs early—during the design and recruitment phases. And many programs, such as Impact Partner in Tunisia, a firm that provides technical and financial support to entrepreneurs, offered online courses and tools to help women surmount the cultural barriers facing them.
During the beneficiary focus groups, we also dug deeper into trainee perceptions. Aisha,* another training beneficiary in Kenya, noted that free or low-priced trainings are sometimes perceived as being low-value, or worse, fraudulent. Additionally, in countries where traditional gender roles persist, many women preferred working and training with other women. They felt more supported and were able to be more open, engaged, and honest about their experiences.
In an effort to increase women's participation, training programs and hiring firms have expanded mentor resources. Laboratoria—a coding bootcamp that targets vulnerable young women in Latin America—requires beneficiaries to meet weekly with mentors who are established professionals. Mentors serve as role models and help female beneficiaries overcome gaps in confidence, communication, and leadership skills. Some organizations also created ways for female graduates to reach out to other women to encourage their participation in training programs. Many, such as Google's Womenwill initiative, also use behavioral science techniques to offset social norms and perceptions.
These consultations helped inform operational recommendations for the design and implementation of gender-inclusive digital jobs interventions for youth, so that young women like Naomi and Aisha can access work opportunities in the digital economy. The consultations also contributed to S4YE's youth engagement strategy, which encourages youth to have a greater say in the policies that affect them.
While the consultations helped expand upon existing literature and case studies, it was the anecdotes they supplied that proved invaluable in supplementing that information with real world examples. It was also heartening to see how young women in difficult situations can overcome barriers and follow their goals for a better life.
[1] Names have been changed to retain anonymity of the consultation participants.