Author: Ugo Gentilini
Let's start with the facts. A third of the 418 social protection programs world-wide responding to COVID-19 (Coronavirus) are government-funded, non-contributory cash transfer programs.
Why do cash transfer programs play such a prominent role? The pandemic demands rapid, concrete a response that injects resources directly. Cash transfer programs tick all the boxes. In most countries, they have established delivery infrastructures; proven adaptability in the face of crises (e.g., simplifying access and digitalizing payments); and a track record of supporting livelihoods and generating local economic multipliers.
In this crisis, cash transfer programs are also being repurposed to support informal sector workers who were not previously covered. Around 2 billion informal workers worldwide were not social assistance beneficiaries before the COVID-19 crisis hit. Click To Tweet Countries' strategies to help them weather the pandemic are now evolving in real-time. I want to focus here on three approaches: targeted temporary payments; time-bound universal transfers; and urban adaptations.
Targeted temporary payments can be delivered using existing national social registries. Brazil's Cadastro Unico will be used to deliver a 3-month emergency cash transfer of $115/month to informal workers. Those not already in the register can apply through a new online platform. Such platforms have also helped governments to manage excess demand. In Thailand, a monthly transfer of $153 for 3 months will reach 9 million workers not covered by the Social Security Fund. But the program received 22 million applications.
Other countries are using administrative information from health, energy and tax systems to target informal workers for temporary payments. Tunisia is giving one-off cash transfers of $68 to 623,000 households holding a low-cost healthcare card. Morocco is using the RAMED health insurance fee waiver register to channel mobile payments (up to $117) to 3 million informal workers. El Salvador is giving $300 to 1.5 million households with monthly electricity consumption below 250 kilowatts/month. Cross-checks with taxation information are another way to identify informal households. Colombia's new "Solidarity Income" cash transfer includes a one-off payment of $108 for 3 million households identified using the social registry (SISBEN) together with the tax collection databases. India's state of Uttar Pradesh is providing unconditional payments to 27.5 million workers participating in the Mahatma Gandhi National Rural Employment Guarantee Scheme. Argentina's "Emergency Family Income" pays $155 to 3.6 million families, including workers on the simplified tax regime ("monotributo") and domestic workers. Similarly, one-off payments are being made in Cabo Verde ($100 to 30,000 workers), Ecuador ($60 to informal workers earning less than $400/month), Malaysia ($144 for taxi, tourist and trishaw drivers), Namibia ($40 to all workers who lost their job) and North Macedonia ($124 for 20,000 households). Multi-month schemes are present in the Philippines ($100-160/month for 2 months to 18 million households) and Vietnam ($43 for 3 months). Some local programs are also emerging: Berlin is providing $5,400 to 150,000 artists, small shops and freelancers, with streamlined application and approval processes, with $1.4bn already distributed. Overall, cash transfers to informal workers represent an average of 55% of median income in Low-Income Countries (LICs) and Middle-Income Countries Click To Tweet (MICs) (figure 1).
Figure 1. cash transfers for informal workers in US$ and as percentage of monthly median income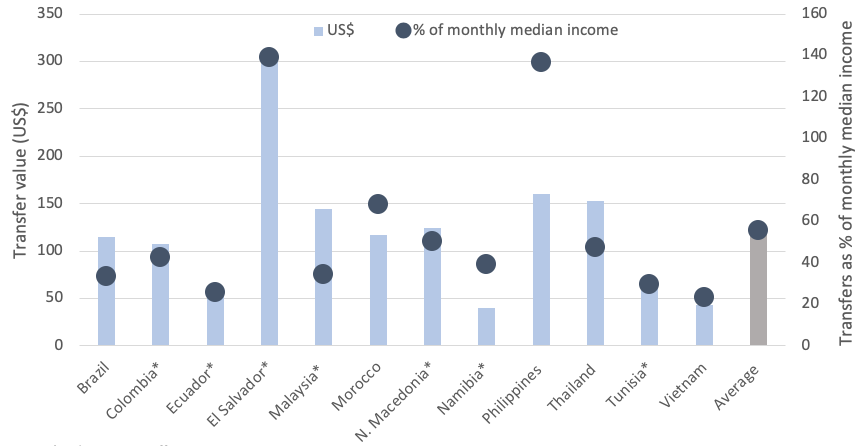 A few relatively wealthy countries are adopting universal transfers, providing cash to everyone, regardless of income and labor market status. Serbia is making a one-off payment of 100 euros to those aged 18 or more (5 million people), Hong Kong is giving $1,280 each to 7 million adult residents; and Singapore is providing up to $600 for all aged 21 and above. Such "helicopter money" responses, funded through monetary expansions, might be a viable short-term option on top of existing social protection systems. However, permanent universal basic income (UBI) programs would be a different matter. Especially in LMIC and LICs, UBI would need to recalibrate its objectives away from temporary support and address fiscal and other trade-offs before being embedded in social protection systems.
Where informality is concentrated in urban and peri-urban areas, urban adaptations of cash transfer programs have started to emerge. Uganda's social protection program for adolescent girls in Kampala (a mentoring-plus-cash program) has adopted remote enrollment and virtual mentoring to ensure delivery continuity. Click To Tweet In China, larger amounts are provided to urban cash transfer beneficiaries: e.g. in Hubei, cash transfers are $70 for urban recipients and $42 for rural recipients. Other countries are tackling urban housing issues. In Malaysia, Kuala Lumpur will give rental holidays to 40,000 renters in public housing. In Argentina, during the pandemic, evictions are banned, and rents are frozen. In Venezuela, rent payments are suspended for 6 months, with landlords reimbursed by the government. In Hong-Kong, the government will cover one month's rent for low-income tenants in public rental units. Trinidad and Tobago will give rental assistance of $367/month to vulnerable households for 3-6 months.
This rapid review of the role of cash transfer programs in the COVID-19 response suggests four take-aways. First, millions more informal sector workers are already being served by cash transfer programs, through ad-hoc expansions of existing programs. After the crisis, there will be an opportunity to build permanent structures to support this "missing middle" in the post-crisis recovery and in future crisis events. Second, support to informal workers should not rest on a single program, but should use integrated approaches (e.g., fee waivers, home delivery of school meals, etc.). Third, the crisis is underlining the importance of adapting cash transfer programs for urban marginal areas, which is emerging as a key programmatic priority. Finally, cash transfer programs are not just about money; they offer platforms to connect multiple services and interventions and this interconnection will grow in importance as we move beyond the crisis phase. Click To Tweet
This is the fourth blog on ways to protect workers and jobs in the COVID-19 (Coronavirus) crisis, based on a World Bank Jobs Group Note: "Managing the Employment Impacts of the COVID-19 Crisis, Policy Options for the Short Term." Upcoming blogs will cover the role of unemployment insurance; and policy options for the recovery phase, such as digitally-enabled public works; and addressing gender dimensions of the jobs effects of the COVID-19 jobs crisis.
.